[04/25/2023 @ 1:01 PM CT] Book this fare on: United.
Deals are usually valid 24 to 72 hours after posting, but can expire at any time (see time-stamp).
This website contains cookies and links to companies that may compensate this site when you click on their links or ads. To view our ad disclosure and privacy policy, visit this page (link).
United has one-way Business/Polaris flights from San Antonio (SAT) to Tokyo (NRT) for 72,600 miles/points + $5.60 tax/fees, with a connection. Flights depart April 26, 27, 28, 30, and May 01. Very limited availability, two or three seats each date.
Booking flights with miles/points is worthwhile when the cost of airfare is high. In this case, the cash cost of flights Business class Polaris fares with one stop between San Antonio and Tokyo is astronomically high, over $5,500 for a one-way.
Inbound arrivals will need to be vaccinated and boosted to avoid needing a pre-arrival negative result for a Covid-19 test, according to [per Kyodo News].
The Yen is currently trading below 133 yen per dollar. In some cases, goods and services in Japan may be about 33% cheaper if you're converting USD to Yen. 
For your return flight, we recommend booking an economy saver award ticket for about 35,000 points and $50 tax/fees.
---
Here are the latest limited time offers that we also think are worth a look:
New limited time offer: American Express® Green Card Welcome offer has increased by +15,000 to 60,000 Amex Membership Rewards® points. The welcome offer applies after spending $3,000 in the first 6 months of being approved for the card. Plus, earn 20% back on eligible travel and transit purchases made during your first 6 months of Card Membership, up to $200 back in the form of a statement credit. This is the highest public welcome offer that we've seen for this card. Terms apply. For rates and fees of the American Express® Green Card, please visit [link]. American Express is an Escape ATX advertiser.
Airfare coupons on Hopper: (updated daily-ish) Hopper always has discount coupons on their main page. These deals are common. $100 off Fiji Airways, $100 Cayman Islands, $50 off Condor airline, $50 off Royal Maroc, $30 off West Virginia. The full list is on Hopper's website. Keep in mind that Hopper is an OTA, so don't expect them to honor the free 24-hour cancellation period, or to have the lowest base fare price. Their customer service is via "App only", a negative for sure. Hopper will also try to up-sell you on a lot of extras like "cancel for any reason" policies that in our opinion, suck; if you decide to use Hopper decline all of those extras.
Limited supply: The $500 Southwest Airlines gift card is on sale for $450 at Costco. This deal comes and goes every other month or so. It usually sticks around for a while before selling out.
---
You can earn United MileagePlus miles several ways:
You can earn miles with United Credit cards. We recommend the United℠ Explorer Card for earning MileagePlus points because of the "free first checked bag" perk.
You can transfer points from Chase Ultimate Rewards® to United MileagePlus on a 1-to-1 basis. We recommend using the Chase Sapphire Preferred® or Chase Sapphire Reserve® for the ability to transfer points and earn bonus points with travel and hotel spending.
Use the United MileagePlus X app on iPhone or Android to link your MileagePlus account to "MileagePlus Dining", "MileagePlus Shopping", "Featured Apps", and "MileagePlus eGift cards". These bonuses can stack with the bonuses from your Credit Card purchases that you would get via Chase Ultimate Rewards.
Always add your MileagePlus number to flights operated by United or their alliance partners. You can add your MileagePlus account to tickets purchased via United, Priceline,  Expedia, Kayak, or any major booking website. How much you earn will depend on your fare price, fare class, status, and the partner airline. 
Want a notification sent straight to your phone when any new deals are found? Join our Telegram channel and never miss another deal.
Our website wouldn't be possible without the direct financial support from our Patreons. If you like the work that we do, then consider becoming a Patreon supporter. We send our supporters an additional daily recap of every fare below the 6-month moving average.
We don't charge a subscription fee. All our deal notifications are available for FREE via Instagram, Facebook, Twitter, Telegram, our Webpage, and our E-mail list. If you are paying someone a subscription fee for this content, you are being ripped off.
Book this fare on: United. These screenshots were taken at the time this post was created. See timestamps at the top of the post.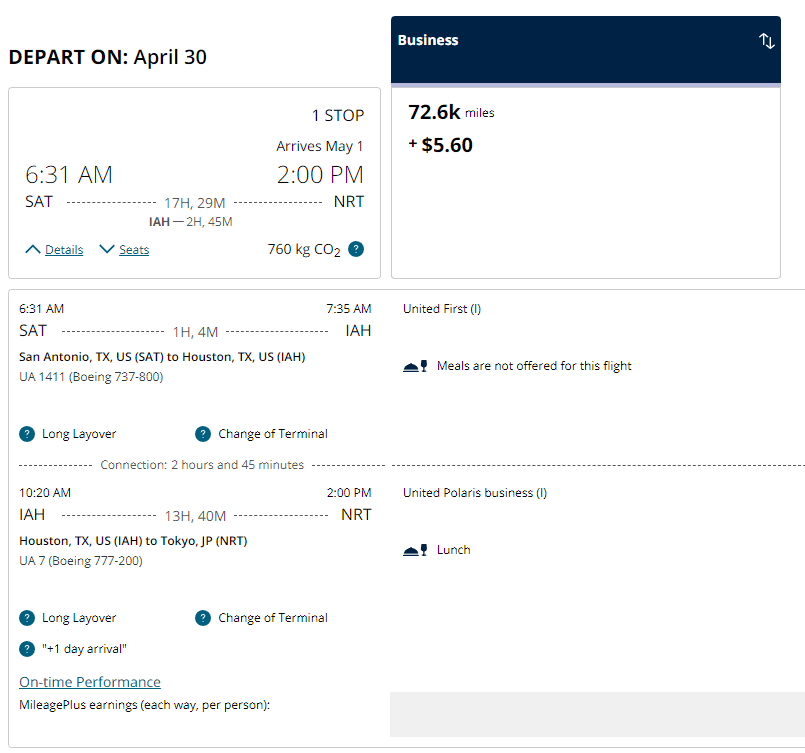 Our Affiliate Links:
This site receives referral credit when you use links on our page to open our affiliate's page. By using our affiliate links when you begin your airfare or hotel search, you are supporting this site. Thanks.
Flights departing from a different city (our other websites):
Other Useful Links:
[Budget Travel] – list all the posts that deal with Budget Travel (filter out all the flight deal posts)
Links to our sister publications: